make dads day - sunday 4th september
WRITTEN ON 10 August 2022
fathers day is the first sunday of september. treat dad to breakfast, lunch or dinner with us at capers cafe + store or one of our incredible gift boxes filled with new zealand artisan foodie products, we know dad will love.
our breakfast + lunch menu is full of customer favourites, including our pork belly eggs benedict made with 3 otaika valley free range eggs, ciabatta, potato + herb rostis covered in a blanket of hollandaise. swtich pork belly for bacon, salmon or avocado + spinach.

our keto breakie features kransky sauce, bacon, hollandaise, poached egg, fresh celery + cucumber salsa with rice vinegar + avocado oil. or if dad is a fan of ALL the things - our capers big breakfast is sure to satisfy - with bacon, eggs any style, kransky, potoato + herb rostis, creamy mushrooms, thyme marinated tomato with ciabatta toast. view our breakfast + lunch menu HERE
dinner offers a selection of light dishes + sharing plates - perfect to enjoy over happy hour from 5pm till 7pm, 7 days. featuring bang bang prawns, loaded pork belly fries, chicken platter and baked brie round.
our main dishes include a chilli + paprika lamb shank served on gnocchi, brocolini, carrots, bacon crumb + parmesan cheese. customer favourite chicken, mushroom + bacon fettuccine is a dad pleaser too, along with our salmon fillet. take a look at the whole dinner menu HERE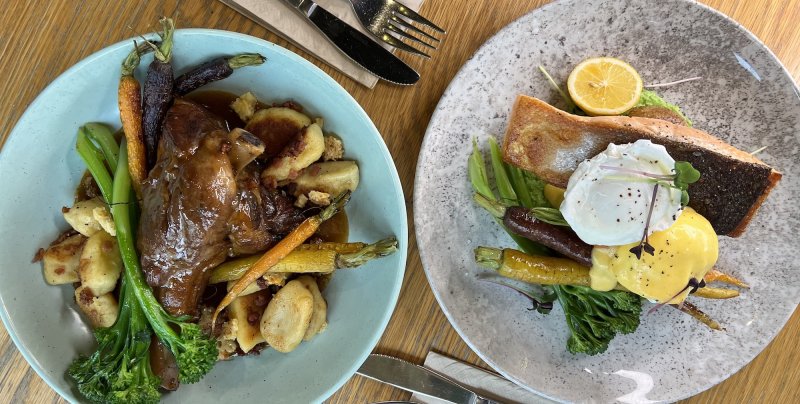 can't spend time with dad in person? send him a gift he'll love with a capers cafe + store's incredible range of gift boxes - which can be delivered right to his door.

the store offers a phenomenal range of new zealand artisan products, hand picked by our incredible team - from apostle hot sauce, pepper & me, volcanic chocolate, cassia at home, the kiwi artisan co, al brown and MORE. our store team can make a gift box to suit dads tastes and nutritional requirements or you can order from ready made boxes online.
shop gift boxes HERE

we can't wait to celebrate with all the incredible dads in our community this fathers day - the biological, the step, the role model, the father figures and all those who miss there dads on the daily.

happy fathers day

from the capers cafe + store team.
xx